Anna Maria Abbona and Franco Schellino
If I think of Dogliani, I think of the freedom that these areas still give us and is reflected in the free interpretations of a wine which does not force us to follow predetermined paths. You can produce what you feel like producing, how you like it, to give your own interpretation of the terroir.

Luckily, we work in an area that is not in the spotlight: this means that we are not slave to wine reviews, and are less tied to the strong conditioning of the market. We can live off this job without accepting compromises.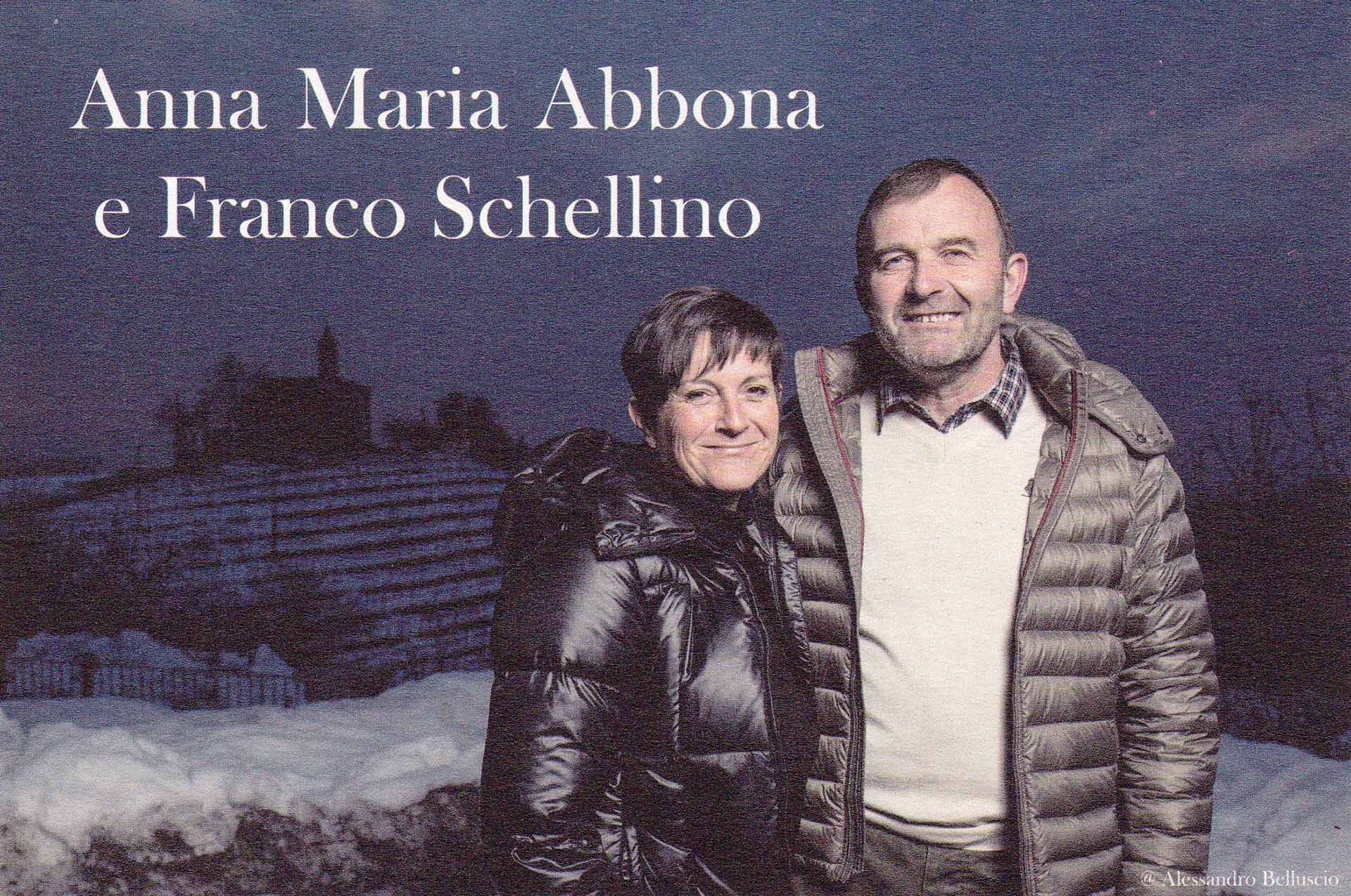 Anna Maria Abbona – Farigliano (CN)
It is thanks to my husband Franco Schellino that, in 1989, I decided to leave my job as a graphic designer and come back home.
Together, we revived the old vines planted by my grandfather. I have learnt to prune and tie them working in the vineyard with my husband and my parents for many years.
My husband is a quiet man, but if you look at him with patience and attention it's easy to see how he puts all the love and respect he has for the land in his work.
It has been a privilege to work with him for all these years. It has not been difficult to keep the tradition of my family.
Even if we have added new technologies and more modern cellars, our wines have preserved their traditional character and identity.
During all these years we have tried to find the right balance between structure and elegance, body and drinkability.
Making wine on this hill, I believe, has certainly made our work easier. The white soil and good exposure give our wines good body and longevity, while the altitude (500-550 m above sea level) ensures intense scents and a fresh taste.
We have been growing dolcetto for four generations and we have never considered extirpating our vines or planting other varieties.
We now produce four Dolcetto from our seventy year old vineyards, and they express all the potentials of this variety: from a simple, daily wine to a very structured, medium aged wine.
The company owns 14 hectares and produces 75,000 bottles a year.
Marziano Abbona
I don't know if people wonder why the Dogliani wine I identify with carries my father's name. I don't know if they realize the importance of our old folks' conviction, their determination to work with a grape variety which seems to do anything to make our life difficult. They had perseverance, the courage of hard toil, but also the desire to sing while they worked.

My idea of Dogliani comes from this contrast: I like a wine that is tannic, serious, that fills your mouth and your thoughts, as it did with the generations before us. At the same time I like a lot of fruitiness, to remind us that hard work was always accompanied by the great pleasure of living.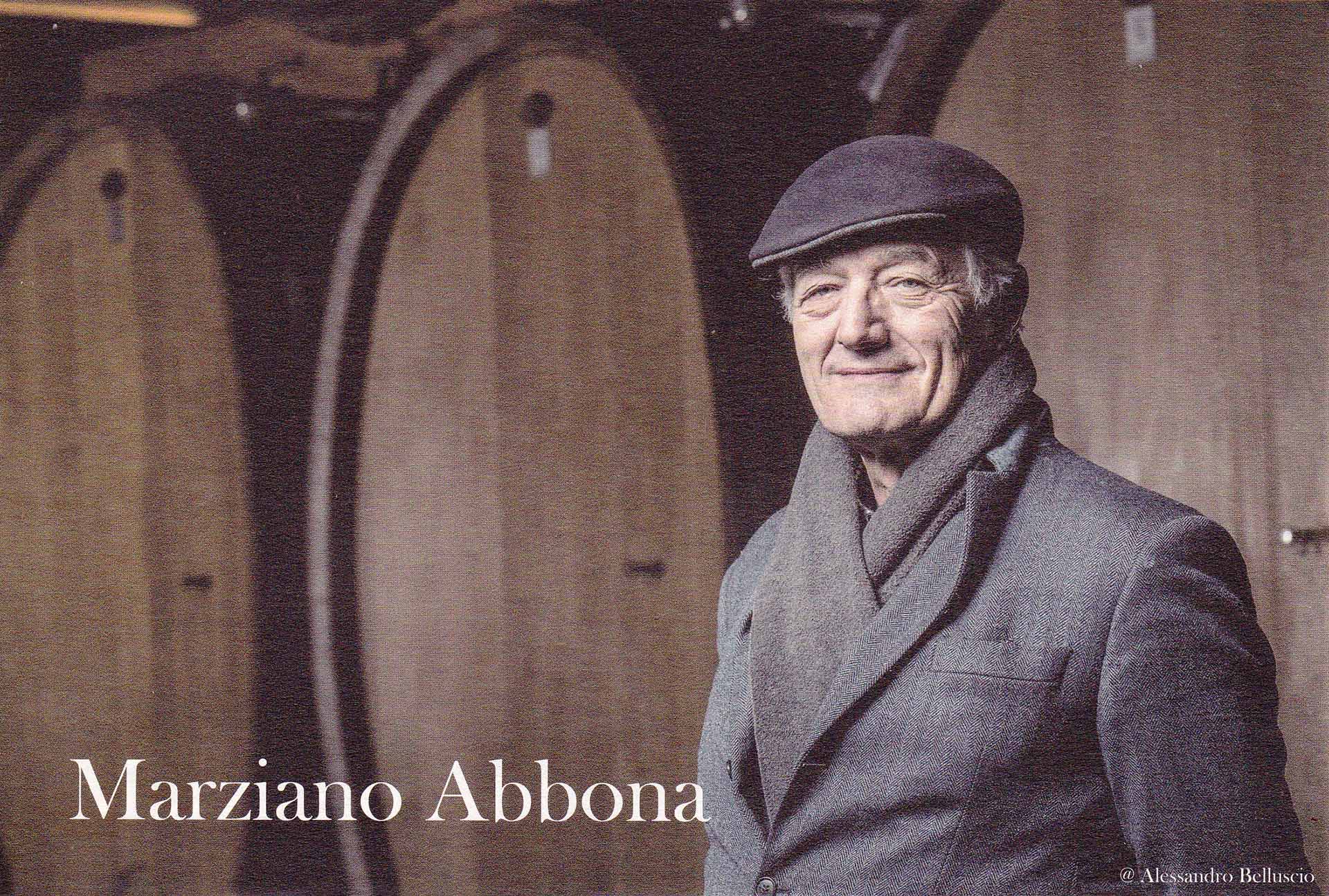 Abbona – Dogliani (CN)
The winery was founded by Celso, Marziano's father, who had the foresight to recognize the area's potential for the production of top-quality wines.
About sixty years ago, he planted the Doriolo vineyard in an area whose soil composition, exposure to sunlight and surrounding wine-producing environment made it an extraordinary place for the production of Dogliani.
In the late Sixties, Marziano and his brother took up their father's winery and started bottling wines produced with the family grapes. It was the beginning of a new story which has led to the current size and relevance.
Over the years, acquisitions have extended the original estate. The cultivated land is now wider: vineyards cover more than 52 hectares and include some of the most renowned Dogliani cru such as Doriolo and San Luigi.
In addition to Dogliani, which is still the core product of the winery, Barolo, Nebbiolo d'Alba, Barbera d'Alba and other traditional wines of the Langhe area are also produced.
Another relevant product is the Viognier-based wine which originates from Marziano's great love for Condrieu.
The wine cellar, built in August 2006 and spreading over 2,500 square meters, is where the respectful processing of grapes and the rigorous use state-of-the-art technology take place.
The aim is to produce wines which perfectly reflect all the painstaking work done in the vineyards and meet even the most demanding tastes.
The many acknowledgements received by Marziano's wines on national and international guides, and their presence on the wine lists of the most prestigious restaurants in Italy and abroad, have proven him right and confirmed the choices made by Marziano and his highly-professional staff.